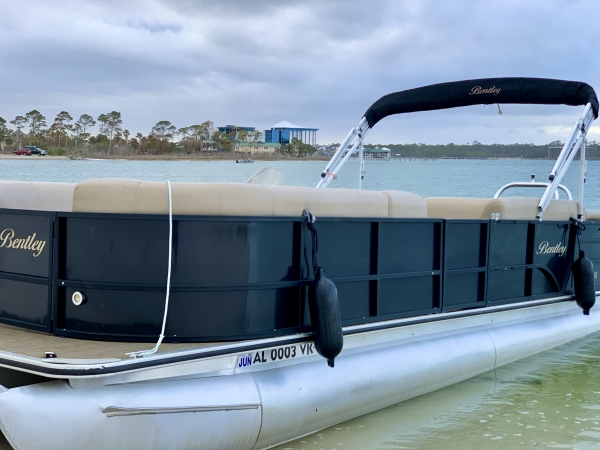 The Most Luxurious Way to Cruise the Gulf Coast
Bay Side Boat Rental is the best place to rent luxury pontoon boats and floating mats. 
You can rent one of our pontoons for a half or whole day or even weeks at a time, but remember: the longer you rent, the better your value.
Each of our 24-foot boats comes with a minimum 115 HP engine, large Bimini shades, bluetooth capabilities, and USB charging ports.
Fishing isn't permitted from our luxury pontoons, but we do rent out vessels perfect for this beachy pastime. Just remember to ask for that option when you book your reservation.
Best Resource for Pontoon Boat Rentals in Orange Beach
We offer luxury pontoons and water pads at affordable prices, so you and your group can concentrate on having a blast and making memories. 
If you can't come pick up your beautiful 24-foot Bentley watercraft from us, we can bring it directly to your condo or house dock or meet you at almost any marina in the area.
Each of our boats comes with a minimum 115 HP engine, large Bimini shades, bluetooth connection capabilities, and USB charging ports.
Our floating mats are great stand-alone options or the perfect add-ons to pontoon rentals for when you want to drop anchor and catch some sun with your toes in the sea.
Prices vary depending on dates and availability. Discounts are available for multi-day rentals.
A $100 deposit is required to make a reservation and is not refundable if the reservation is cancelled within 48 hours of pickup/delivery.
Note that we do hold a credit card number on file for damages.
All rental rates include safety equipment.  
Tax and fuel charges not included in prices.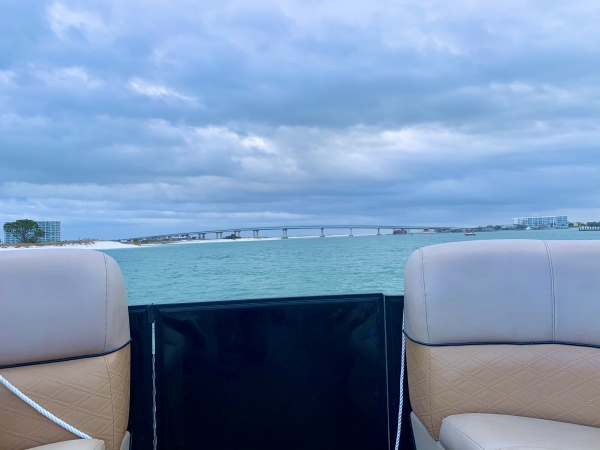 $50 a day 
$300 for a week 
$400 you can buy the float

No deposit required for floating mats

We can deliver your floating mat to the Orange Beach and Gulf Shores areas. Ask for details about other locations. 

Reservations recommended
Visit Bay Side for your Orange Beach Boat Rentals
Whether you are staying in one of the local high-rise hotels or spending time in one of the condos in Orange Beach or Gulf Shores this summer, you can't miss out on the boating trip of a lifetime.
Call us at (251) 979-0609 with questions.
Frequently Asked Questions
Do I need a special license to drive a pontoon?
Special licences are not required under Alabama law. However, there are some restrictions. Anyone renting a pontoon with Bay Side Boat Rentals must be 21 years old. Anyone driving the vessel must be 18 years old and hold a valid road vehicle driver's license.
What can we bring with us on the pontoon?
Where is your dock located?
How many people are allowed on the pontoon?
Make Your Reservation Now

We Look Forward to Meeting You at Bay Side Boat Rental LLC.